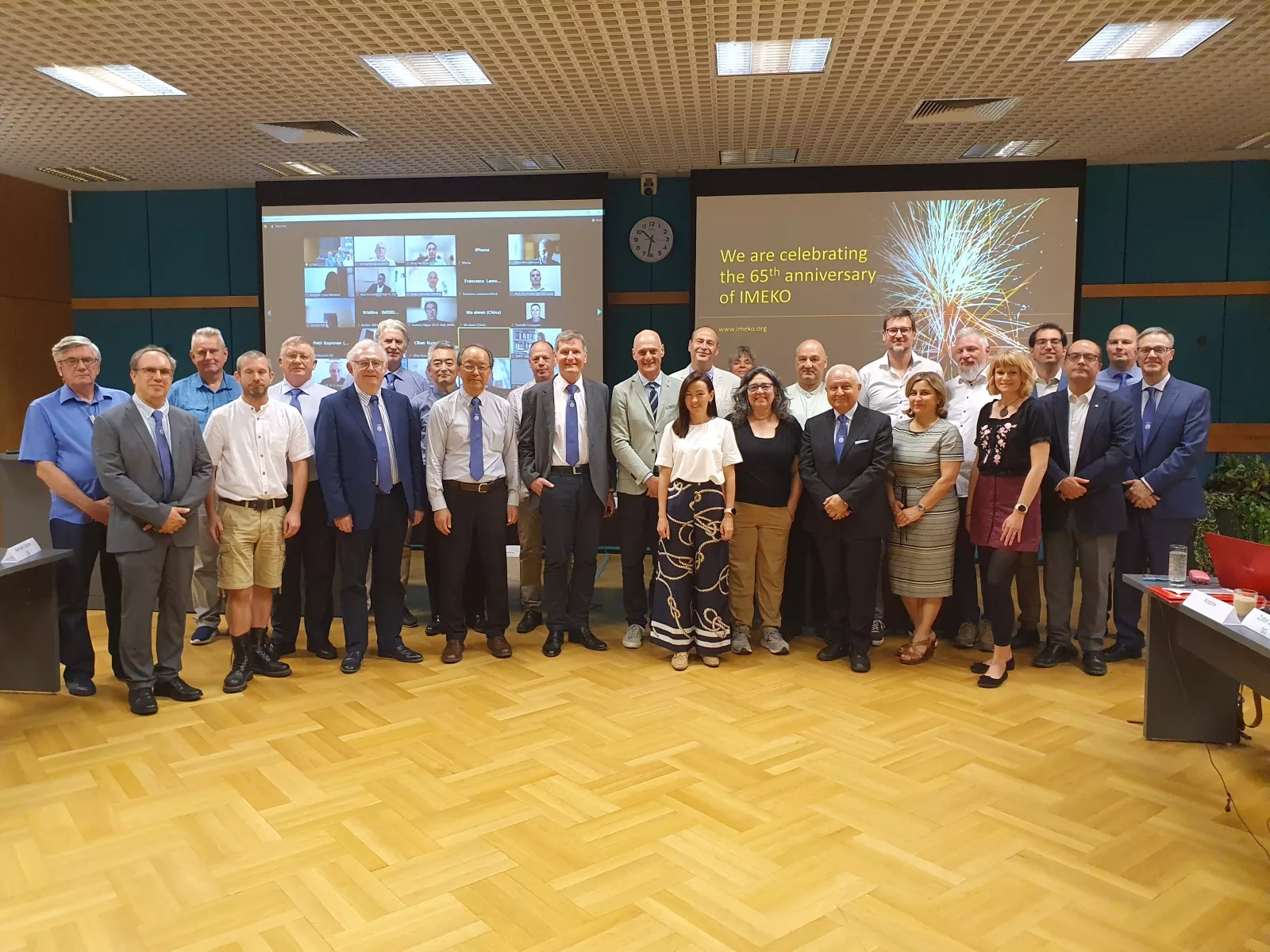 International Measurement Confederation (IMEKO): an international, scientific organisation covering the complete range of measurement, it has 41 country members from all over the world (e.g. from USA to Japan, from Sweden to South Africa), additionally, it has many personal members, 32 leaders in person and over 50 participated online on the actual meeting, representing more than 40 countries. It is particularly interesting that this international scientific organization was founded in Budapest in 1958. This also meant that this year's meeting was IMEKO's 65th birthday, which was celebrated by the participants with a special cake at the evening dinner.
The management of the organization - in accordance with its own rules - is absolutely international, but from a legal point of view, it continuously operates with its headquarters in Budapest, accordingly, the members always "come home" to Hungary. This was also the case at the beginning of September 2023, when the Hungarian member organization, HUN-REN SZTAKI, hosted the world's scientific leaders, and COPROLOGS member László Monostori, the director of HUN-REN SZTAKI, greeted the participants at the beginning of the meeting in the same spirit.
During the two-day meeting the leaders reviewed the operation of the organization according to the strictly predetermined topics: e.g. admission of new members; electing new leaders; overview of the operation, conferences and effectiveness of individual TCs (Technical Committees - scientific units); the organization's finances; the scientific journals operated by the organization (e.g. Measurement, which is already a D1 journal), and its sub-publications (Sensors, Food, Measurement: Energy), and the ACTA IMEKO) effectiveness; then the cooperating scientific organizations gave a presentation on their operation, and the session was closed by the current organizational aspects of the 2024 IMEKO World Congress and finally, the voice of the presidential gavel finished the successful meeting.
A special attraction at the beginning of the meeting was that the participants could see three demonstrations in the Innovation and Demonstration Space (IDS) of HUN-REN SZTAKI (drone flight, human-robot collaboration with virtual reality support, and the portrait-drawing robot), about which the scientific leaders from many countries reflected very positive opinions.